Journal
Why We Love The Matt Black Bathroom Trend
Aug 2022
Even though the trend has been around for a while, Matt Black bathrooms are popular as ever and the trend doesn't appear to be going anywhere. Dramatic, sophisticated monochromatic bathrooms can add an impactful statement to your house without ageing like other, more bold colour schemes. In this blog post, we'll look at a few ways in which you can incorporate matt black into your bathroom design, as well as some of our favourite matt black Tissino products.
Some people think that it can be tricky to pull off black in the bathroom because it makes the room feel dark and gloomy. However, using black as an accent to highlight other areas of the bathroom is a great way to make a statement without being overpowering. Available as part of our Esclusiva by Tissino collection, Idro Matt Black Shower Glass creates a clean statement for a showering area, without taking away any light
from the space. The shower glass pairs beautiful with our matching finishes Lucia range, especially when contrasting with White Slate Giorgio Wall Panels.
Black taps are fresh, edgy and a great way to incorporate an industrial look into bathroom design. Black taps
can be used to easily create a chic, sophisticated finish. For an extra refined look, the Parina Concealed Basin Mixer adds grandeur and refinement that is guaranteed to impress. Some people also feel that matt black brassware tends to have a cleaner finish compared to chrome and that it doesn't tend to get as grubby.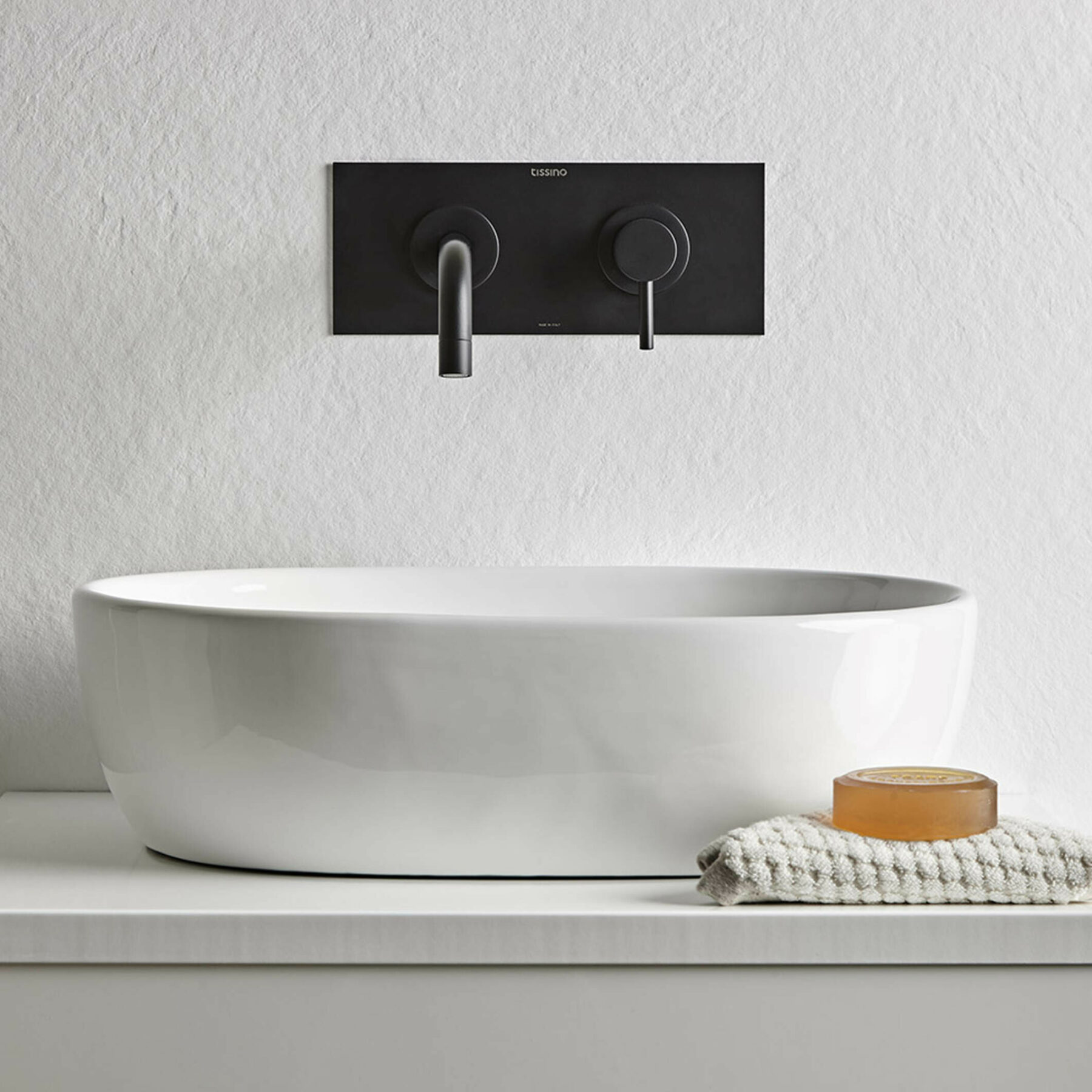 Whether you're going for earthy, industrial hues in the bathroom or crisp, white spaces, Cosenza furniture from Esclusiva by Tissino is the perfect solution for people wanting a unique bathroom. Option designer legs and matt black handles accent the furniture in an understated and contemporary fashion. What's more, black accents can ground a bathroom and give it definition in a way that chrome finishes don't, so opting for designer legs on Cosenza units will ultimately give your space definition and create refined lines.
Matt black brassware can even give you a hotel-luxe feel in bathroom design, making your space feel even more special. When paired with veined marble finishes, like the finish of our Finezza Shower Tray, from the Esclusiva by Tissino collection. Making a statement with the Finezza tray means that other brassware and accessories can effortlessly follow suit, creating a relaxed chic style that will leave house guests envious.